Why you should take up Yoga on a daily basis: five benefits for body and mind

During these times when we are required to stay at home, yoga can become our window onto well-being
Yoga as a break from work and the daily stress we are subjected to.
Yoga as a moment to recharge our batteries and unwind.
Yoga as an activity for the body, a chance to rediscover that movement that is often missing in this period, but also as an activity for the spirit.
Whatever your reason for taking up yoga, there is no doubt that this practice, a veritable sport in the truest sense of the word, is becoming increasingly popular and appreciated.
A boom in training sessions and online videos for beginners looking to give it a try has also contributed towards this positive trend.

Add yoga influencers to the mix, who have boosted its visibility, including on renowned social media platforms, further contributing towards its success.
It is easy to get started: all you need is a mat and a suitable sports outfit that follows your body's movements with fluidity to try your hand at Asanas, i.e. the positions or postures used in some forms of yoga, like Hatha Yoga, from the comfort of your own home.
Yoga has also roused such interest due to its countless benefits, making it a daily practice suitable for all age groups, thanks to its different levels of intensity.
Five benefits of yoga
As our instructorCarol Enrico explains, yoga benefits us in a number of ways.
- Breathing: the slow movement of breathing calms body and mind. In situations of anxiety and stress, yoga breathing helps with relaxation, enriches the blood with oxygen, improves thought and boosts vitality.
- Posture: doing yoga in general, and not one Asana in particular, can benefit our posture. As we develop our capacity for concentration, proprioception and visualisation, it becomes easier for us to absorb the correct instructions imparted during sessions and apply them to everyday life.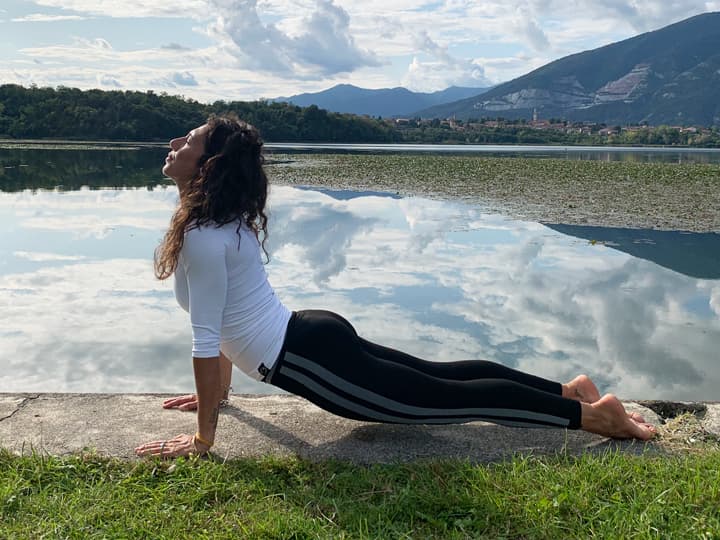 - Strength and muscle tone: positions and sequences strengthen every single muscle, even the deepest and less well-known ones.
- Muscle lengthening and balance: the more yoga you do, the more flexible you become. Not just physically, but mentally too. More flexible towards others but above all, towards ourselves.
Physical balance, in the sense of being able to hold an Asana, contrasting gravity without losing our balance, enables us to focus our attention on ourselves, through breathing and concentration, isolating us from the outside world.
- Awareness: yoga also generates mental benefits, not just physical ones. Developing an awareness of your breathing helps you to connect with your inner self, reawakening it.
This awareness is mirrored in a greater ability to control and manage our emotional states, helping us to remain more clear-headed in everyday life and to face difficulties with the right amount of healthy detachment, without being overwhelmed by stress.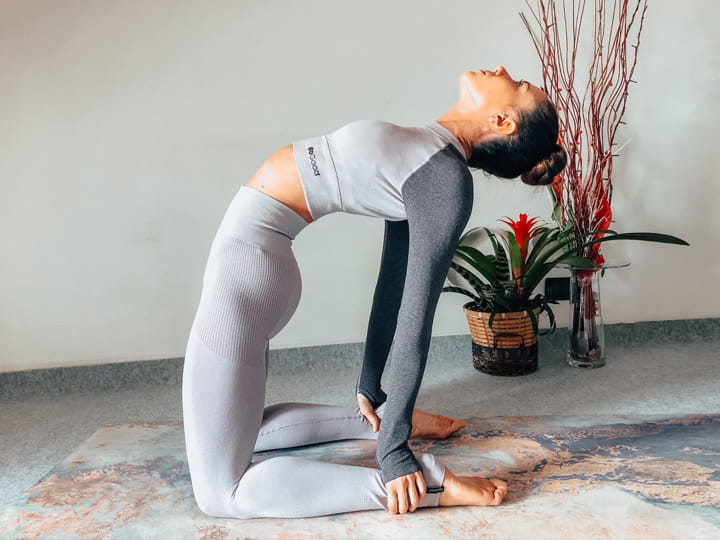 Dermofibra® Cosmetics meets yoga
BeGood has dedicated the world's first cosmetotextile clothing range for yoga, which multiplies the beneficial effects of this sport with organic composites and active ingredients that improve the body's silhouette and skin texture.
As previously mentioned, when choosing which garments to wear for sports, it is always important to opt for those that guarantee freedom of movement, figure hugging and comfortable, for an enhanced performance.
The BeGood® slimming yoga outfit consists of a long-sleeve top and super-slim, flat-stomach leggings with a high ribbed, doubled and reversible band to contain the abdominal muscles and support the back's lumbar area.
The combined action of the special shaping fabric and the bio-infrared creates a smart garment that stimulates microcirculation by eliminating excess fluids and redefining the whole figure.

Trying your hand at yoga with BeGood
Why not take advantage of this period at home to try some yoga?
BeGood® has created a series of bite-sized power yoga videos with Carol Enrico so that anyone can give it a go, even complete beginners.

A proof of how yoga really is for everyone and how it can become an important addition to our daily routine.

All videos are available here.