BeGood
Ethics
BeGood products are made from sustainable raw materials and/or with the best technologies in at least one production process.
Our aim is to guarantee that all our products are sustainable along every single step of their life cycle. We work on all levels, striving to guarantee the minimal environmental and social impact of our products, involving our suppliers in the development of a production chain that respects the environment in all its processes.
Ultimately we create safe products that are manufactured in adequate social and environmental conditions, provide by our clients, who make them available to a team committed to continuous professional growth, without ever losing sight of corporate social responsibility.
Ecological

Choice

Protecting the environment and improving efficiency in the use of resources is fundamental in all our operations and important for all our clients and partners.

The use of certified and

eco-compatible

yarns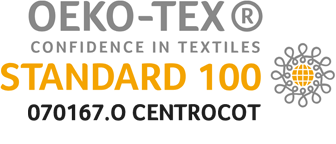 STANDARD 100 by OEKO-TEX® is an independent control and certification system for the entire textile world of raw materials, semi-finished and final products, in all processing steps, which aims to obtain products free from potentially substances.
Any non-fabric parts are also examined in the manufacturing process.
For many companies, compliance with OEKO-TEX® criteria is an integral part of their delivery.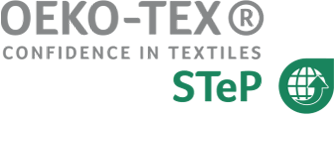 STeP by OEKO-TEX® the environmental certification for ecological textile plants. STeP certification (Sustainable Textile Production) supports ecocompatible production sites in the modular analysis of all divisions involved.
This includes chemical products, environmental and quality management, environmental performance levels, social responsibility and occupational safety. The certification instrument has been specifically designed for single processing steps of the textile industry.
OEKO-TEX® supports sustainable textile production in the continuous improvement of production conditions.
Packaging
Our PVC bag is 100% recyclable and reusable. It is also worth knowing that when we make our packaging:
Energy from renewable sources is used for the entire production cycle as well as for the production and office departments
The entire lighting system is based on led lighting.
Silk-screen printing does not use solvents and polymerisation with led light.
Manufacturing scraps are reused whenever possible, or sold to companies that use them in other production cycles (we never throw anything away, everything is recycled, including paper).
The centralised plant modulates power usage in the production department, generating a 20% energy saving in the last 24 months.