Doing yoga not only benefits the body, making it more elastic, stronger and improving its balance, but also helps the mind to relax, unwind and concentrate. It therefore enables you to become increasingly disciplined, allowing you to overcome your physical limits and to improve from one session to the next.
However, doing yoga properly involves taking small steps, not progressing too fast and relying on professionals who can guide you through the process of improving your mind and body. You must also choose the professional who is right for your personality and choices: some people prefer to do yoga outdoors, perhaps in a garden or by the sea, while others prefer an enclosed area, a peaceful, spiritual room suitable for concentration.
The right equipment to do yoga
Similarly, some people prefer only using the weight of their body during yoga, while others prefer using equipment such as yoga wheels and yoga balls, which are specially designed for certain types of exercise and to further increase the difficulty level. This is why, especially for those who are taking up yoga for the first time, it is best to start with equipment-free exercises and to strengthen muscles before moving on to more complex exercises involving yoga equipment.
One useful tool for safe yoga is the famous yoga mat. You can choose a colour based on your personal preference, but you should bear in mind certain technical features. Yoga mats should not be so thick that you are too far from the floor, yet equally they should not be thin, otherwise you risk hurting your knees in certain positions.
You should certainly consider size and thickness before buying a yoga mat: it must be convenient to carry and generally between 3 and 6 millimetres. In terms of the material, it is best to choose PVC if you want a long-lasting mat, or you can opt for natural materials like jute or cotton, which may however be more slippery and less durable.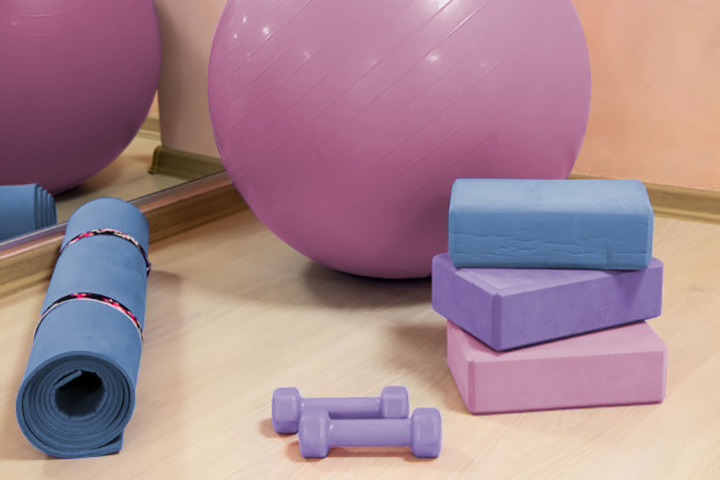 The right clothing and the right environment for yoga
So what about clothes? Comfortable, elastic and colourful!
No greys or dreary colours: yoga is an exercise based on love for yourself and the current fashion is therefore to wear pastel colours that represent your state of inner peace during your training.
When it comes to shoes, many people recommend doing yoga barefoot, in contact with the floor, so that you feel closer to the ground and more balanced in certain positions. Finally, it is advisable that, along with the mat, you bring a wrap that enables you to keep your body temperature constant and to avoid feeling cold.
To make the yoga experience even more intense, it is best to prepare the space before a session. As well as choosing a plain space that improves concentration, you can also use little tricks such as chromotherapy and aromatherapy to improve your sense of well-being.
Choose colours that create a peaceful atmosphere and enhance your mental and physical comfort. The colours of cushions, equipment and the space in which you do yoga can help to improve your exercises. The same applies to music and aromatherapy: you have to carefully choose soothing melodies and a calming, relaxing fragrance.
Yoga for mothers and children
However, in the daily chaos of appointments, work, a house to run and perhaps children, it can be difficult to make time for your passion. Mothers may find it particularly difficult to find the time to do yoga while ensuring that their children are busy with other activities.
This is why yoga for children was created, which is very different from yoga for adults, but nonetheless develops their motor skills and allows them to relax and learn to discover their body and the power of their mind. Yoga for children is designed as a tool to accompany their development.
The various activities for children include meditation, movements to develop muscle groups that will make them stronger and more balanced, and playful activities to improve their interaction with others. Meanwhile, mothers can enjoy their lessons without worrying about their children, who will be on their own learning journey.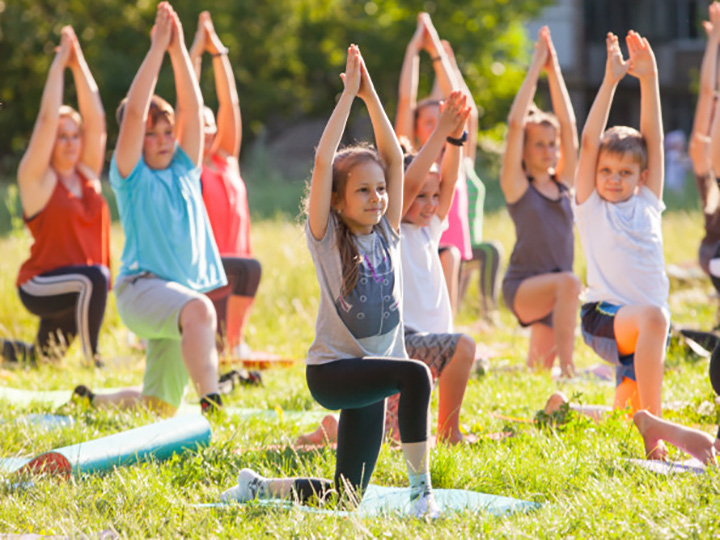 Digital yoga: YouTube and influencers
Despite the many available options, finding time to dedicate to yoga can be a problem, partly because yoga classes cannot contain too many people since the goal is to relax and an excessive number of people could ruin the experience for everyone.
Fortunately, with the arrival of digital technology, you can also experience yoga using computers and smartphones, which enable you do it whenever you want by following the instructions of numerous videos available on YouTube. Simply choose the difficulty level, find a good time to start your moment of well-being and follow the instructions on the screen.
Thanks to yoga influencers on Instagram, every day you can learn new techniques to increasingly improve, follow trends and train together with your favourite influencers, who often organise live meditation sessions.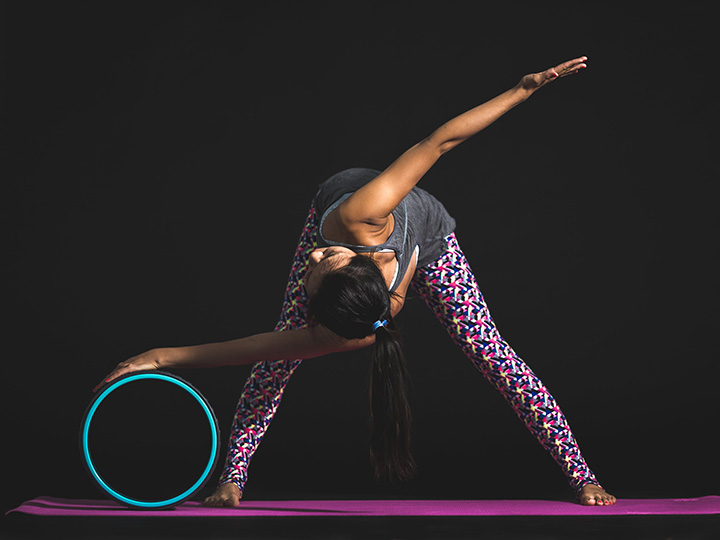 The new BeGood yoga line
BeGood has created a new line for all women who do yoga, fully embracing the colour trend.

BeGood's slimming yoga outfit consists of a long-sleeve top and super-slim, flat-stomach leggings with a high ribbed, doubled and reversible band to contain the abdominal muscles and support the back's lumbar area. It will be available in three colours: antique pink, wisteria and Air Force blue.
The combined action of the special shaping fabric and the Bio-Infrared fabric creates a smart garment that stimulates microcirculation by eliminating excess fluids and redefining the whole figure. As well as moisturising and nourishing the skin, thanks to the anti-UV fabric it also protects it from sunlight so you can do yoga outdoors in contact with nature.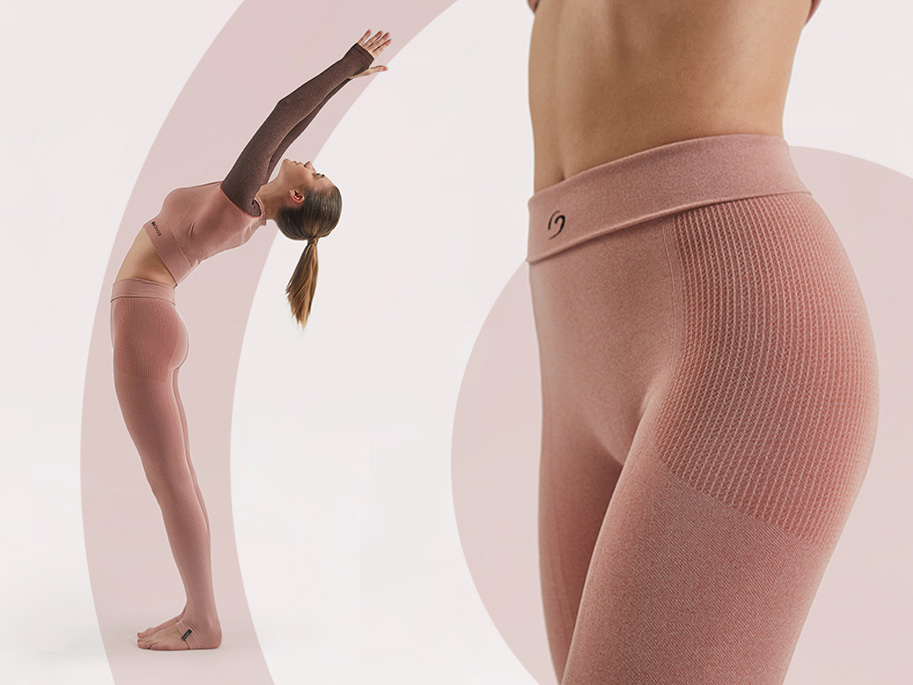 Wear the BeGood yoga line during your training session!
Find out more on begood.store!