Biker shorts are back

The iconic garment of the nineties, an indispensable item for your streetstyle look. Here are a few ideas on how best to wear them.
Summer is slow to arrive this year, but the desire to "reconquer" the streets of our cities is stronger than ever before, following this period of home confinement.
What better time to be even more playful and daring with our clothes, by honing in on the perfect streetstyle celebrated by all the VIPs who have turned the streets into veritable catwalks? Details of all the latest trends can be gleaned from snapshots of a few American celebrities who have become the standard bearers of a more urban style, seamlessly blending sportswear with more mainstream items. This union has culminated in what is referred to as athleisure and here in Italy, BeGood aims to be its perfect testimonial, thanks to its innovative garments.
Biker shorts stand out as the season's must-have item: the iconic Nineties garment is basking in renewed popularity. This is all down to a number of stars and fashion bloggers hailing the revival of this sports item, reinventing it for different times of the day and matching it with an unimaginably wide range of items.
For those who think they are for nothing other than long bike rides around the city: nothing could be further from the truth. If effectively matched, biker shorts are versatile and suitable for lots of occasions and not necessarily sports ones!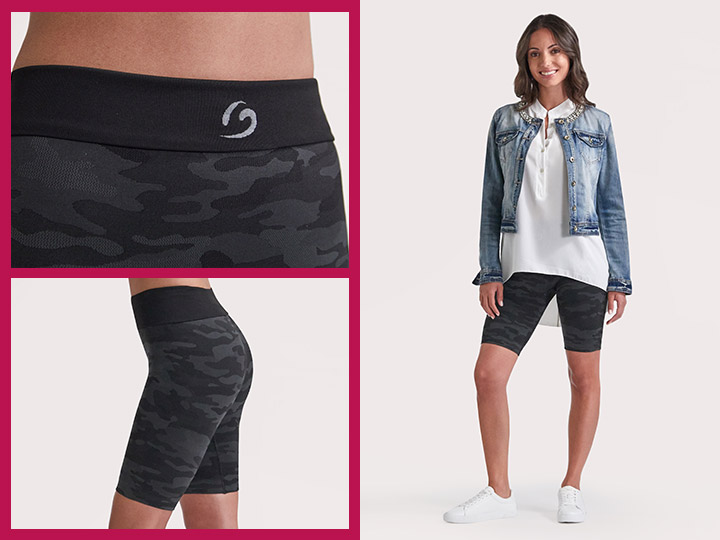 A blazer for an instant urban chic style
Who said that elegance is not possible, even with a simple pair of biker shorts? Just add the right blazer, maybe with a classic cut and just enough structure to take the edge off the sportswear allure of your shorts. Add a white shirt, a pair of kitten heels and the unmissable it-bag of the moment, and you'll be ready to roll. A simple look, curated down to the finest details, perfect for going out with your friends or a work meeting.
Blouse and killer heels for an elegant and sensual style
At last, after weeks of chatting and phone calls, you've arranged your first date. Impress him with a pair of black biker shorts matched with a soft and floaty white blouse for a tasteful edge, perfected by a pair of classic black stilettos. For a decisive and confident style which reflects your essence and reminds him of who you are. Don't forget that precious clutch bag to complete the perfect contrast you have created with your biker shorts.
Comfort with zero compromise on style, for a super comfy look
Your plans for a sunny Sunday include a stroll around town, in search of new shops just waiting to be discovered, perhaps a spot of brunch with your friends. Opt for a comfy yet bold style: put on your biker shorts and add a touch of fantasy with an oversize solid colour sweater. Complete the look with a pair of white sneakers and a more structured bag, an accessory which will take your sporty look to a whole new level, turning it into the perfect example of a more contemporary street style.
Back to the Nineties with a slip dress
Biker shorts were celebrated during the Nineties as a versatile item and worn on all kinds of occasions. If you fancy reliving those years one evening, wear your biker shorts with that slip dress tucked away in your wardrobe, another trendy icon from that decade. A dress with simple and minimal lines, characterised by slender epaulettes, a figure-hugging classic which adds simplicity, style and elegance. Wear it with a pair of sneakers for a more relaxed and sporty style, or for an alternative evening put on a pair of square heeled mules. The Nineties have never been so chic and trendy!
Your favourite old hoodie for a perfect traveller's look
Are you a seasoned traveller and can't wait to board your next flight? Console yourself with a perfect travel girl look. Match your biker pants with your favourite hoodie, a coat or a light jacket and your ever-faithful baseball cap. There you have it, the perfect outfit for dashing off towards any destination or catching any means of transport. While you plan your next journey, you could always prepare yourself by recreating your globetrotter look.
For a rock-chic style wear them with a top of your favourite band
Missing those concerts? Pull out that old, worn t-shirt of your favourite band, even better if it has a rock and vintage feel to it. Add a pair of biker shorts, a pair of pointed toe ballet flats and a cross body bag. A simple way to take the edge off what at first glance appears sporty and casual, using the right accessories to transform it into a versatile all-day outfit: from breakfast at your favourite café to after-work drinks with your colleagues. Perfect comfort, without compromising on trendy, original style.
A biker + top outfit for a trendy workout
If you are a lover of "old style" biker shorts, why not use them for your daily outdoor training sessions? It's all about coordination! Match them with a same colour top and get ready for your daily workout. Why not have fun by playing with animalier prints or vivacious and bold colours! Who said you shouldn't pay attention to your look and the latest trends as you work up a sweat?