Online only
PROMO CODE local_offer
Camouflage Superslim Biker Shorts

Draining
Super covering
Flat-tummy
Free shipping
for orders over € 130
Double-layer waist: for high or low waist fit.
Ideal for women who workout, do yoga, running or other fitness activities, or simply for everyday wear.
Perfect adherence without restricting movement, supports muscular groups during physical exercise, for enhanced performance, all day long.
In Dermofibra®Cosmetics honeycomb fabric, more breathable, more coverage and opaque effect.
1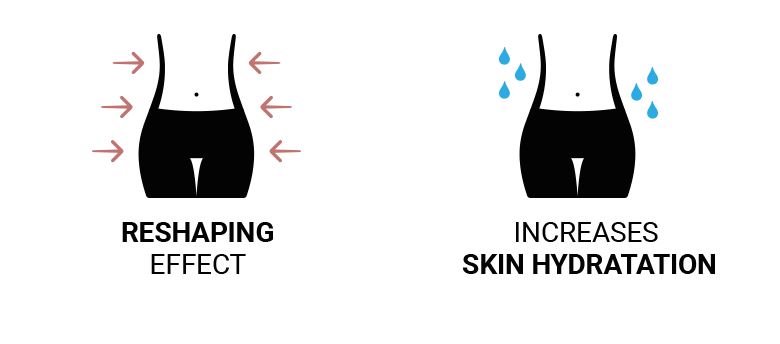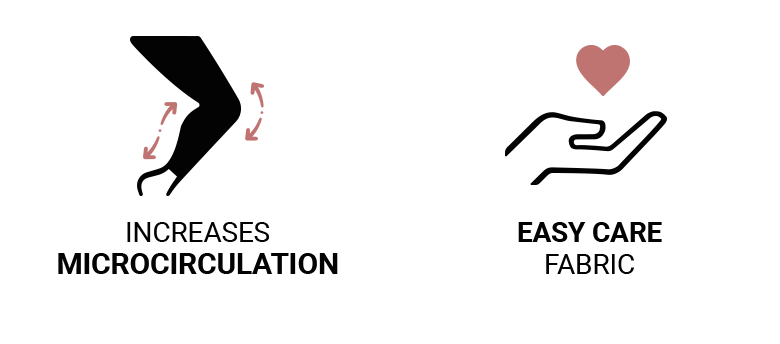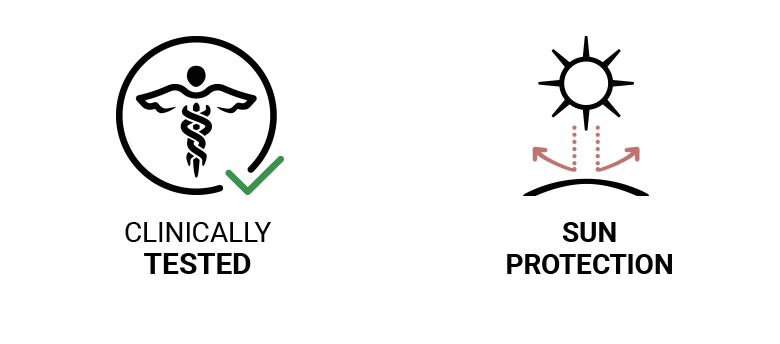 The combined action of the special modelling fabric and bio-infrared creates an intelligent garment which stimulates microcirculation, eliminating excess liquids while redefining your legs and tummy.
In Dermofibra® Cosmetics honeycomb fabric, more breathable, more coverage and opaque effect.
Immediate slimming effect with reduced waist-hip-thigh circumference.
Double-layer waistband for enhanced dermocosmetic action.
Perfect adherence, without restricting movement.
With Aloe Vera and Vitamins A & E to hydrate and revitalise your skin during wear.
With caffeine to help reduce "orange peel" skin.
Jacquard fabric print.
4-needle stitching cover.
Anti-UV fabric, protects the skin from ultraviolet rays.
Gusset in Resistex® Silver yarn with sanitizing effect.
Always maintains original shape, even after several washes.
Swiss Engineering + Made in Italy.
Composition PP 32%, PL 28%, PA 30%, EA 10%.
Choose the right size.
Wearing a BeGood garment means taking care of your beauty and wellness. Every garment has been studied down to the last detail: from the yarn selection to the compression, to obtain the perfect garment balance for every size and give you the best results.
BeGood leggings are compressive and shaping, so it is recommended to buy an extra size if the measurements are between two sizes.
Choosing the correct size is the first step in your wearable beauty treatment.
The long-term use of BeGood products increases the product benefits.
Clinical test results are based on a 28-day treatment, 8 hours per day.
Washing & Care
Wash at 30°
Wash by hand & inside out
Do not dry clean
Do not bleach, avoid harsh detergents and fabric softeners
Do not iron
Do not tumble dry
Hang the garment to dry it
Pull the tights on carefully, this garment has a delicate structure. Long nails, watches or jewelry and rough surfaces can run and snag your garment. It is made of tight-fitting technical fabric and should be treated like a second skin :)
Data sheet
Age Group

adult

Gender

female

Department

Women

Composition

32% Polipropilene, 28% Polyester, 30% Polyamide, 10% Elastane

Plus prodotto

Draining
Flat-tummy
Super covering
Specific References
ean13

7640164258270
Fit
runs small
true to size
runs large
Certified Reviews of our Customers
Joana
Date: 07/01/2023
City: Reggio Emilia
Italy verified buyer
Per me sono perfetti per la bicicletta, piacciono un sacco consiglio. Grazie
I recommend this product
Monica
Date: 14/07/2022
City: Nichelino
Italy verified buyer
Sì, lo consiglierei. E' ben fatto, dopo le prime volte che l'ho portato, in cui era particolarmente stretto, è andata meglio e l'ho trovato sempre più comodo
I recommend this product
Sofia
Date: 19/04/2022
City: Roma
Italy verified buyer
Prodotto very good e ottima azione drenante
I recommend this product
Luana
Date: 09/06/2021
City: Cherasco
Italy verified buyer
Ottimo acquisto,super funzionale! È solo L ultimo di una lunga serie…non deludono mai!
I recommend this product
maria valeria
Date: 26/05/2021
City: CAGLIARI
Italy verified buyer
Servizio impeccabile. Mi sono trovata molto bene.
I recommend this product
Monica
Date: 21/04/2021
City: Cordenons
Italy verified buyer
Ottimo tessuto respirate e di massimo comfort
I recommend this product

Date: 30/09/2020
City:
verified buyer
Prodotto che puoi utilizzare sempre bellissimo comodissimo
I recommend this product
Giulia
Date: 23/06/2020
City: Marene
Italy verified buyer
Fighissimo! Comodissimo! Non ti accorgi di averlo addosso
I recommend this product
Anca
Date: 21/06/2020
City: imola
Italy verified buyer
Eccellenti ottima quantità ,comodi anche se costano abbastanza
I recommend this product
Daniela
Date: 03/06/2020
City: Rovereto
Italy verified buyer
Leggings fantastici, già dopo qualche giorno di indosso sento l'effetto drenante! Unico consiglio, fate una versione più estiva con tessuto più leggero, anche se magari meno contenitivo
I recommend this product
Matteo
Date: 03/06/2020
City: Assago
Italy verified buyer
Fasciante sull'addome e sedere, un po' corti sulla coscia per me, stringendo evidenzia il sopra del ginocchio non proprio sottile..
I recommend this product
Mara
Date: 31/05/2020
City: Medolago
Italy verified buyer
Un capo bello ,molto comodo ,il tessuto molto consistente e perfetta la vestibilitá. Taglia consigliata giusta
I recommend this product
Sandrina
Date: 31/05/2020
City: Giussano
Italy verified buyer
Perfetti mi trovo benissimo, Qualità vestizione ottimi. Li indosso sotto la divisa al lavoro
I recommend this product
Angela
Date: 28/05/2020
City: Busnago
Italy verified buyer
Un pochino lunghi di gamba ma comunque confortevoli
I recommend this product
Annamaria
Date: 19/05/2020
City: Savona
Italy verified buyer
Belli e comodi, ho preso anche i leggins invernali e mi sono sempre trovata bene.
I recommend this product
Why BeGood
is better.
Only with BeGood (unique in the world), inorganic compounds and active ingredients are contained inside the yarn.
A unique and revolutionary yarn with dual FIR technology + active ingredients is the basis for this veritable innovation which has enabled us to patent Dermofibra Cosmetics.
Other brands' yarns only contain inorganic crystals or their garments successively undergo a (surface) treatment to add active ingredients. This obsolete technology does not last for more than 4/5 washes, or simply fades away with normal, everyday use.